Parabolic Reflector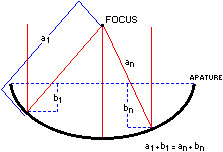 Fig 1
Any signal coming straight perpendicularly through the aperture will be maintain reflected by the parabolic reflector towards the focus point, this means the sum of the distance from the aperture level to the reflector and from the reflector to the focus point will be always equal at any point the signal came in straight upright at the reflector aperture. a1 + bn = a1 + bn
Base from this Formula I made parabolic curve sliding cutter as shown in Fig2 and 2A for making the parabolic curved template. In designing the sliding cutter, I determined first the focus to diameter ratio for an optimum performance. A 0.28 FD ratio was determined. 2 small pulley was installed one at F (Focus point) and the other at the sliding bar C. A steel wire (Usually use for vehicles brake wires) was fastened at pole A (Aperture point).
Parabolic Curve sliding cutter

A= aperture level point
F = focus point
D = Drill
SG = sliding guide.
SB = sliding bar
TEMP = template material


Fig 2

Fig 2 A

An electric drilling machine was fastened at D (parabolic surface point) which will moved whit a distance A - D when the sliding bar SB is pushed in the cutting direction.. A load for maintaining the wire remain straight was put hanging down at the end of the wire. The wire length A-F and F-D is equal to a1 + bn I used a 5 mm milling machine tip and adjust the drill speed by a speed controler for the best cutting result.
---
Fiber Glass construction
| | | |
| --- | --- | --- |
| fig 3 Mold | fig 4 Fiber glass layer | Antenna Bracket asembly |
My plan was building a 2.8 meter Disc, a mold was made of clay using the parabolic curved template see fig 4. The template was turned slowly at its shaft above a heap of clay until an evenly smooth surface and an upside down parabolic mold was formed. After that I put on the top a small molded aluminum disc made from graphite sand casting by YC1COR, this part will function as antenna pool mechanism bracket and feed horn mast bracket. A thin layer of fiber glass resin was applied onto the mold surface, attached above it with thin aluminum foil, covered with another resin layer and above it a fiber glass matting covered with resin . Several mating layer was applied until it's rigid and thick enough.